Understanding Rotator Cuff Injury
What is a rotator cuff and how can it be injured?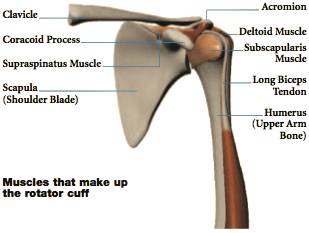 The rotator cuff is actually a combination of muscles and tendons at the top of the upper arm that helps stabilize the shoulder joint and move the arm (both lift and rotation). The "cuff" of muscles attaches to the scapula (shoulder blade) with a tendon connected to the front and side of the humerus bone (upper arm). This network of muscles and tendons gives the shoulder more mobility than any other joint in the body.
Although injury to the rotator cuff can be the result of trauma, such as a dislocation or fracture, tears in any component of the rotator cuff are most often caused by overuse, called wear-and-tear injuries. Any sport or activity that requires repetitive arm movement, like tennis, weight lifting or painting, can lead to a rotator cuff injury. Those who develop tears through overuse may also have experienced several months of pain associated with inflammation, either bursitis, which is inflammation of the joint bursa (fluid), or tendonitis, which is inflammation of one or more tendons.
What are the symptoms of a rotator cuff tear?
The symptoms of a rotator cuff tear depend on the cause. Tears caused by trauma may create an immediate and sharp pain in the shoulder and weakness in the arm. Tears caused by overuse may create pain that begins as a minor twinge when lifting the arm. With overuse injuries, pain may develop into chronic distress in the shoulder that radiates and limits your arm and shoulder movements. Pain may even interrupt your sleep.
In order to diagnose you properly, your doctor will consider your symptoms and examine your shoulder and neck to ensure that your pain isn't caused by a pinched nerve, arthritis, or another condition. You will be asked to perform a few simple movements so that your doctor can measure your range of motion. Your doctor may also require you to have X-rays — to look for contributing bone issues, including spurs, an MRI (magnetic resonance imaging) — to look more closely at the soft tissue (muscles and tendons) of the joint, or an ultrasound.